Group Exhibitions
A Picture of Us?
Identity in British Art
Museums Sheffield: Graves Gallery
16 Sep - 5 Dec 2009
Following on from A Picture of You? in Spring 2009, and including selections from some of the artists featured in that exhibition, A Picture of Us? continues The Great British Art Debate at Museums Sheffield.
The exhibition features selections from Wayne Hemingway (designer and co-founder of Red or Ded), Kate Rusby (Mercury Prize-nominated musician), leading art collector, Anthony d'Offay, and artists including Lisa Cheung, Layla Curtis and Hew Locke.
Layla Curtis has been invited to chose a British art work from the Tate and Museums Shefield collections that she felt said something about her own identity.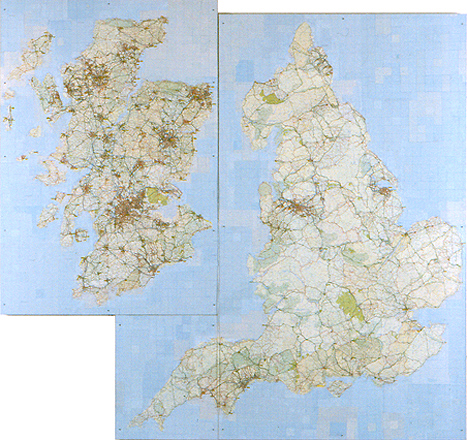 The United Kingdom, collaged British road maps, 1999